Top items – From the New World
01.11.2016 | Symphony no. 9, "From the New World", by Antonín Dvořák, is among the best pieces of symphonic music. The original score can be found in the collections of the National Museum.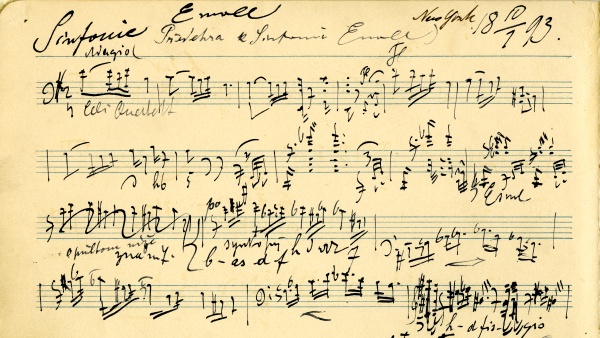 Antonín Dvořák composed the Symphony "From the New World" in 1893 during his stay in New York, where he was appointed a director of the National Conservatory of Music of America. In this work, he combines typically Czech musical motifs with American influences, primarily Afro-American and Indian music. The symphony was premiered in Carnegie Hall and immediately became very popular. Since then, it has been part of the stable repertory of orchestras around the world.
The symphony consists of four traditional movements – 1. Adagio. Allegro molto, 2. Largo, 3. Scherzo. Molto vivace, 4. Allegro con fuoco. The striking rhythms, unique lyricism, elemental temperament, unity of form and content, frequent reminiscences of themes from previous movements – all these characterise this unique work. Each of the movements is exceptional. Many see a range of American influences in the New World Symphony – the hurried pace of life in New York, the vastness of the American landscape, Dvořák's homesickness and Indian and Afro-American songs.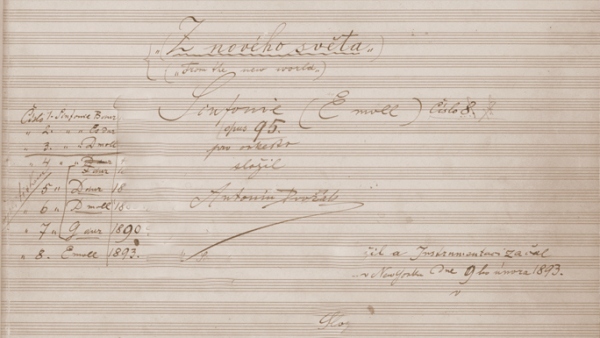 Dvořák took the manuscript of the symphony with him when he returned from America to Bohemia. After his death, the manuscript came into the possession of his heirs, and in 1980 it was bought for the National Museum. Nowadays, it is stored in the Czech Museum of Music in Prague, which is one of sections of the National Museum. The National Museum in Prague also includes the Antonín Dvořák Museum, the entire exhibition of which is dedicated to this famous composer.
The original manuscript of the score is exhibited only rarely. The last time was in November 2014 on the occasion of the 25th anniversary of the Velvet Revolution. Symphony no. 9 in E minor, "From the New World", by Antonín Dvořák, returned for a few days to the place of its origin – New York. This was the very first time that the score had left the country since Antonín Dvořák's return to his homeland.
---
What next?
(EK)